William J. "Count" Basie (1904-1984)
The title of one of his band's most famous tunes — "The Kid from Red Bank" – is an obvious tip-off, but many jazz historians assume that William J. "Count" Basie, Jr. was a native of Kansas City, Missouri. And while that's where Basie and his band rose to national fame, the jazz great's origins can be traced to a house located just blocks away from the historic theater that today bears his name.
William Basie was born at 229 Mechanic Street on August 21, 1904. His father, Harvey Lee Basie, was a coachman and caretaker; his mother, Lillian Childs Basie, was a laundress, taking in washing and ironing. A brother, James, died when William was a young boy. The family always owned a piano, and Lilly Ann paid twenty-five cents per lesson to teach William to play.
In addition to helping his parents, William also did chores at Red Bank's now-defunct Palace Theater. A projectionist taught him to rewind the reels, switch between projectors, and operate the spotlight for the vaudeville shows. On the afternoon the Palace's house pianist failed to show for work, Basie offered to fill in – but was denied. Nonetheless persistent, the young Basie waited for the film to start, crept into the orchestra pit, and accompanied the film anyway. He was invited back to perform that evening.
Though Basie's initial intentions were to become a drummer, his ambitions in that direction were forever erased after hearing drummer Sonny Greer from Long Branch. Greer, who later rose to fame as the drummer for the Duke Ellington Orchestra, was so obviously superior to Basie that he made a hasty retreat to the piano. The men became friends and formed a duo.
Decades later, the two would be among fifty-seven musicians photographed on the stoop of a Harlem, brownstone by Art Kane, in a shot to accompany an Esquire magazine article on the "Golden Age of Jazz." The photograph would later become as famous as the subjects it depicted, as inspiration for the documentary A Great Day in Harlem.
In 1924, Basie moved to New York City. There, he met and was influenced by noted stride pianists James P. Johnson and Fats Waller. Though just a teenager, Basie was touring as a pianist and accompanist on the major vaudeville circuits. It's believed that his experience in these roles ultimately lead to Basie's reputation as a bandleader who had no issues with younger musicians taking up the spotlight.
In 1927, a canceled tour left Basie stranded in Kansas City, Missouri. He remained there, eventually joining bassist Walter Page's Blue Devils, an outfit that also included vocalist Jimmy Rushing and trumpeter Oran "Hot Lips" Page. Each would one day figure prominently in Basie's own band.
Basie left the Blue Devils early in 1929 to play with other bands in the area, and later that year schemed his way into the top band in the territory, the Bennie Moten band.
Basie Gets His Own Big Band
Moten himself was a pianist, but the band so influenced Basie that he was undeterred in wrangling a position for himself as staff arranger and substitute pianist.
Like many bandleaders of the day, Moten ran what was called a "commonwealth band," with each member of the band having a say in the band's operations. During one dispute about an upcoming performance, the band voted to oust Moten as its leader and – though he was not one of the instigators – installed Basie as its new leader.
The new band billed itself as Count Basie and his Cherry Blossom Orchestra, marking the first time that "Count" was officially added to his name. Though stories abound at the genesis of his nickname, Basie later recalled it as a tribute to his penchant for slipping off during arranging sessions with Moten. As soon as they got a few good bars down, Basie recalled, he'd slip out, leaving Moten to exclaim, "Where is that no 'count rascal?"
Though Basie embraced his opportunity to lead a band, he quickly jumped ship to work with Moten's new band, where he remained until Moten's unexpected death in 1935. Soon, Basie and saxophonist Buster Smith pieced together their own nine-piece outfit, comprised of former members of the Blue Devils and the Bennie Moten Band. This new collective, Count Basie and His Barons of Rhythm, secured a residency at the Reno Club in Kansas City – a stay historians regard as Basie's biggest career turning point.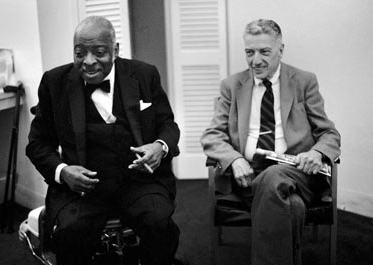 Basie Meets John Hammond & Begins His Rise To Fame
The Reno Club residency established Basie as a permanent band leader, and because the performances were broadcast on radio, the band received nationwide exposure. One night in Chicago, a young music writer named John Hammond tuned in. Hammond had been instrumental in resurrecting the career of Bessie Smith, and during a later stint in A&R at Columbia Records, he influenced the careers of Billie Holiday, Aretha Franklin, Bob Dylan – even Bruce Springsteen.
Hammond immediately wrote to Basie, expressing his wish to collaborate and introduce the band to even bigger audiences. When Basie finally wrote back, Hammond immediately left for Kansas City, and announced his presence by walking onstage during a Reno Club broadcast and sitting down with Basie between numbers.
Hammond and Basie shared a lifelong friendship, with Hammond later featuring Basie during the famous "Spirituals to Swing" concerts at Carnegie Hall. Hammond arranged for a national booking deal with MCA and a record deal with Decca Records, and by 1937, the bombastic, thirteen-piece band known as the Count Basie Orchestra moved to New York City and become one of the world's leading big bands.
The Count Basie Orchestra
Over the next thirteen years, Basie's Orchestra incessantly recorded and toured, establishing a new home base at the Apollo Theatre in Harlem and performing there several times a year. The orchestra's recordings, including "One O'Clock Jump," "Jumpin' At the Woodside," "Taxi War Dance," and "Lester Leaps In," marked the peak of the Kansas City sound.
In 1938, Basie returned to Red Bank, marking his first homecoming performance . Singer Billie Holliday joined Basie for the show, held at the River Street School, located just a mile from the present-day Count Basie Theatre. In testament to the social attitudes and mindsets of the time, a local newspaper raved that Holliday was "the finest girl singer of her race."
In 1950, financial considerations forced Basie to disband the orchestra. But by 1952 he reorganized the band, and the "second" Count Basie Orchestra was considered as exciting, vibrant and even more important than the first. The new outfit toured internationally, playing at the request of kings, queens and presidents, and issued a large number of recordings under Basie's name and as the backing band for various singers — most notably Frank Sinatra.
After more than thirty years in the business, Basie made some of his most popular and critically-acclaimed work, including "April in Paris," "Shiny Stockings," "L'il Darling," "Corner Pocket," and even a hit single, "Everyday I Have the Blues," with singer Big Joe Williams.
In 1961, Basie solidified his iconic status by performing at the inauguration of President John F. Kennedy.
A few weeks later, Basie returned to Red Bank to perform at the Reade's Carlton theater – the 1927 vaudeville house that today bears his name. The Asbury Park Press raved, "Seventeen hundred Cheer Basie at Homecoming," and the legend himself was presented with a plaque celebrating "Count Basie Week" and recognizing him as one of Red Bank's "all-time distinguished citizens."
He returned to the Carlton in 1974 – then known as the Monmouth Arts Center. The show, a tribute to the Count's 70th birthday, included the awarding of an honorary doctorate degree from what was then known as Monmouth College. The Asbury Park Press review of the performance remarked that the Basie Orchestra "retained its crisp, clipped, homogenized phrasing."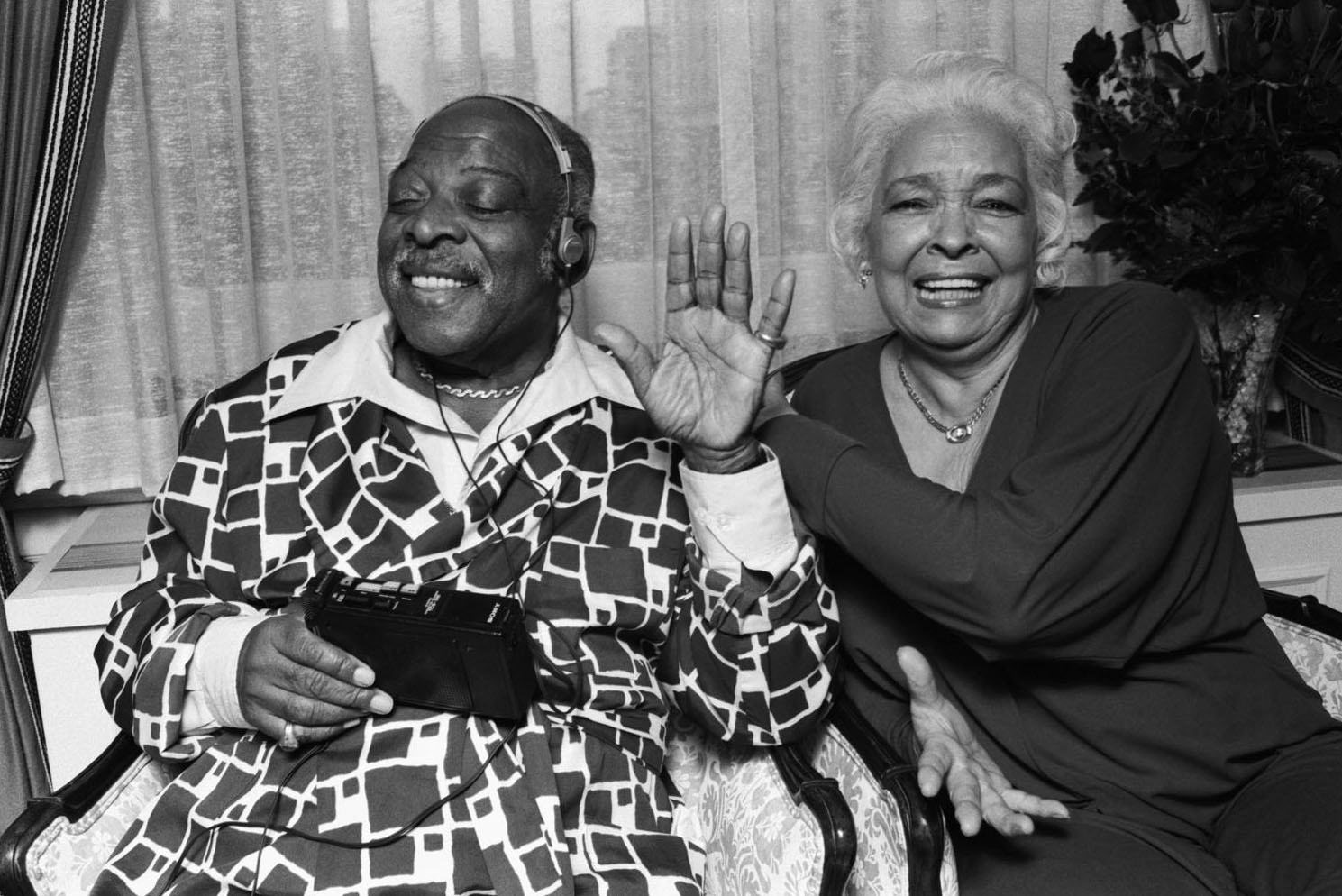 In 1979, Basie returned to the Monmouth Street theater, in a benefit for the A.M.E. Zion Church on Shrewsbury Avenue. "Well, we're back home again," he told the crowd. Afterwards, when a reporter asked Basie if he was concerned with getting old, he replied, "I don't worry about getting tired. I just worry about getting work." No problems there — he had just finished and an album with the great Ella Fitzgerald, and a tour of Italy, Germany and France was on the books.
In 1983, Basie made his last performance at the Carlton Theatre / Monmouth Arts Center, just nine days removed from the death of his second wife, Catherine, with whom he had been married 43 years.
Just 53 weeks later, Basie succumbed to cancer at the age of 79, and was buried in Pine Lawn Cemetery in Farmingdale, Long Island, New York. In November 1984, the Monmouth Arts Center was renamed to honor Basie, then wholly recognized as Red Bank's most famous son.
A Legacy of Great Jazz
Over a sixty-plus year career, William "Count" Basie helped to establish jazz as a serious art form played not just in clubs but in theaters and concert halls. He established swing as one of jazz's predominant styles, and solidified the link between jazz and the blues. Compared to the more complex, almost symphonic compositions and arrangements of some of the other leading bandleaders and composers of his time, most notably Duke Ellington and Fletcher Henderson, the Basie band's arrangements were usually straightforward "head arrangements," based on a simple riff or melody (the "head") made up and memorized by the band in rehearsal, and later played in performance as the background for soloists.
Basie won nine Grammy Awards, including two trophies at the very first Grammy ceremony on 1959.
The story of Basie's life and career, and the history of his music and orchestra are of course not a linear tale that can be told succinctly in just a few pages. Musicians, singers, composers and arrangers came and went over many years and over many ensembles, grouping and regrouping like the audience in a club. Some dropped by for just a night. Some stayed for years. Some came and went and came again. Many had important and influential careers in their own right, and perhaps more than anything else that is the legacy of William "Count" Basie. His orchestra was a unique band during a unique time in the history of jazz and American music. It was full of outstanding musicians, composers and arrangers, but it was built and sustained by a man who as a musician, composer, arranger and band leader always seemed to know just the right note to strike at just the right time. No more, and no less.
For More Information
For more information about the life and career of William "Count" Basie, visit www.countbasie.com. Also available is Good Morning Blues, Basie's autobiography as told to Albert Murray, and The World of Count Basie, a collection of interviews with various Basie musicians by Stanley Dance.